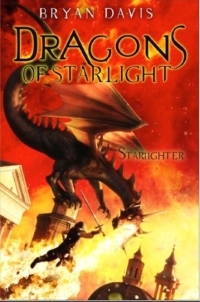 As a huge fan of Bryan Davis' Dragons in Our Midst/Oracles of Fire series and the Echoes from the Edge trilogy (I spend more time on his forum then on Facebook), I eagerly anticipated the release of Starlighter.
One aspect of the story that will immediately surprise readers of DioM is the presence of inherently evil dragons. But instead of traditional treasure-hording, maiden-devouring beasts, the dragons of Starlight enslave humans to mine extane, a gas necesscary for dragons to breath.
Meanwhile, on another planet, stories of the "Lost Ones" who were stolen by dragons and taken to another planet are laughed at as myths, but the young swordsman Jason Masters is forced to make a difficult decision when he discovers the legends are true.
Although the twin settings of this book are different from the mixed modern realistic of Davis' prior series, I found both of the worlds delightfully fresh and exciting. The mixture of modern and medieval technology in Jason's world raises questions for the next book in the series, and the characters are well-written and lovable.