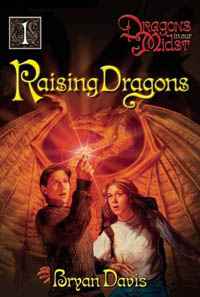 One of my favorite authors is Bryan Davis, author of Dragons in Our Midst, Oracles of Fire, and Echoes from the Edge [DioM, OoF, and EftE to fans] His books are well-written modern Christian fantasy, some of the best I've ever read. You can buy books directly from the author at
http://www.daviscrossing.com/shopping.htm
.
And now, my review of Raising Dragons:
Billy Banister is a typical teenage boy; trading tall tales with friends, occasionally late to class… and breathing fire. When Billy's breath sets off the fire alarm in the restroom, his dad must tell him the truth about his past. This incident sparks a wild adventure full of unknown dangers. Together with the new girl Bonnie Silver, Billy is caught up in a centuries old danger. But how is his principal involved? And what is Bonnie hiding in her backpack? Read this book, the first installment of the Dragons in Our Midst quartet, and find out!
I loved how this book blended dragons, King Arthur and modern-day life. It made it seem like adventure may be just around the corner!