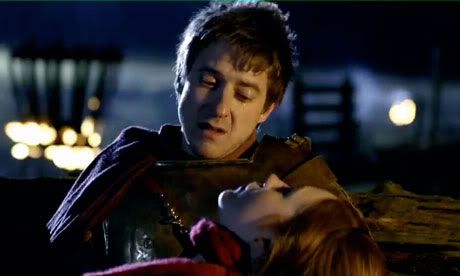 According to legend, wherever the Pandorica was taken, throughout its long history, the Centurion would be there guarding it. He appears as an iconic image in the artwork of many cultures. And there are several documented accounts of his appearances. And his warnings to the many who attempted to open the box before its time.
Rory starts out as the gooseberry of the TARDIS crew, plucked out of his stag party after Amy attempts to kiss him. After that, he becomes the most death-prone companion in ages, dying almost every other story. But what sounds like comic relief masks the heart of a true hero. The classic male companion was Jamie from the 2nd Doctor (who I haven't seen much of). Rory is THE male companion for the revived series, and one of my favorites.
Be A Man
How does Rory transform from a bumbling nurse to the Lone Centurion? Maybe he took a little advice from the movie Mulan. Four drabbles inspired by "Make a Man out of You."
Centurion
What he does most, locked in this little cell of damp cold rock, is talk to Amy. He tells her all the things he always wanted to say. Everything he ever thought and hoped and dreamed.
Common Threads
At a doctor's office, Rory meets a man in the waiting room. But what do the Last Centurion and an Army Doctor have in common? Well, just a few sociopaths.
Doctor Who?
He would never tell this secret, of course, unless it was to save someone's life. So when Rory, Amy, and the Doctor land on a planet being invaded by Cybermen, the secret comes to life. He remembers that which no one should ever know. *One-shot*
Freedom and Lies
The Doctor says very disturbing things when he feels that he has to. An attempt to make an out-of-character
idea
in character. Author's Note:
Although there is no onscreen non-con, one OC is in a
very abusive
situation and there is definitely non-con in the back-story. My Note: It's not as bad as it sounds.
Just Because
Rory doesn't feel like he measures up. The Doctor decides to do something nice for him. Here (in your arms) remix.
Night Terrors
People have called Rory Williams brave. He doesn't always feel that way.
Secrets
Amy finds out that she is not the only one who has been keeping secret
Semper Et In Aeternum
During the day, Rory can pretend the door in his head is fully closed. But he speaks Latin in his sleep.
slip, slip, knot
He's not the Last Centurion today. He's just Rory Williams, a man who lost his daughter to kidnappers. And as he watches Amy's reaction, he wonders if he's going to lose her too.
My Note: Part of the "Needle and Skein" collection listed under Amy Pond
recommendations.
The Centurion's Vigil
"I'm not a 'servant of Rome', honestly. I'm just the guy who takes care of the box." Rory waits for 1894 years. The world changes a fair bit, and he tries to keep out of trouble. Rory/Amy, T for bodily harm/to be safe.
Waiting for Godot
London, Christmas Eve 1879. Against all odds, two extraordinary men collide in an improbable meeting. Well, they do say it's a small universe.
Wedding Night
Amy Pond had plans for her wedding night. She's sure that watching her husband sleep was not one of them. Pure h/c.