Best Audio Drama: The Blackgaard Chronicles
This Adventures in Odyssey album collects all the episodes of the Blackgaard Saga in one album. Because I was too young to listen to the episodes when they originally aired, it was amazing to hear them. Oh, these are classics. Plus, it totally, completely confirmed my theory that Blackgaard is a Time Lord. He even offered to show Aubrey the Time Vortex in one episode!
Best Standalone Fantasy: The Ocean at the End of the Lane
"I liked myths. They weren't adult stories and they weren't children's stories. They were better than that. They just

were

."
The Ocean at the End of the Lane, the latest Neil Gaiman work, was absolutely beautiful. I loved the fairy-tale atmosphere and mysterious setting. It may be classified as a novella, but it just left me feeling like I'd gotten inside something so much bigger and bigger than I am.
Best Familiar Reread : Dragons in Our Midst/Oracles of Fire/Children of the Bard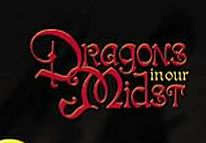 I read all of Bryan Davis's anthrozil books in about a week, partially because it had been a while since I had read them and also because I felt like I was reuniting with old friends. Oh, I was watching them grow and mature and
suffer
all over again--especially the latter, they do that a lot! And by the time I got caught up with Children of the Bard, I felt nostalgic for the old days, when you only had to worry about your principal trying to kill you, not angels who wanted a situation where death was impossible.
Best Newly Discovered Series:
The Chronicles of the Imaginarium Geographica
Oh, man....this is good. This is really, really good. When Jack, John, and Charles happen to arrive at an Oxford's facility office, it's an interesting
coincidence
--but when the man they came to see is dead, then things get really, really interesting. '
There's so much I want to say, but I can't because all the punchlines come in with the surnames. Anyway, READ IT!
Best Media Tie-In: Shada
There are at least three versions of Shada, and this one is the most complete. It's based on the original Douglas Adams script, with lots of continuity nods to the new series.
This story was originally meant to be a season seventeen episode, with Four and Romana, but a writer's strike left the filming unfinished. It was released in 1992 as a clip-and-narration production, a Big Finish audio with Eight, and finally this 2012 novel based on the final script.
Best Poetry: The Fall of Arthur
Okay, I wanted to put this one under "Best Posthumous Author", aka Best Book by a Dead Guy, but A. that seems rather ridiculous. B. Shada also qualifies.
Seriously, Tolkien had more books published after his death than he ever finished alive; thank you Christopher Tolkien!
But it's a really interesting poem--perhaps not as good as
Legend of Sigurd and Gudrun--
but the atmosphere is really, properly English, and I'm always up for more Arthurian legends.
Best New Book in a Series: Dragonwitch
I absolutely adore Stengl's writings. I actually received a free copy of this book as part of the blog tour, but it didn't arrive until the last week of July when I was busy with VBS. Then I was at camp for most of August and didn't have time to type up a review.
This book goes back to the past of Goldstone Wood, the world of Imrelda and other legends. I was slightly confused by the reappearance of the Dragonwitch, but after thinking it over, it made more sense. I think I'm prone to confusing the Dragonwitch with the Bane of Corriland. In any case, I love this series and highly recommend it. Reviews of the books are available on Quasars and Feathers.
Best New Author: City of A Thousand Dolls
New authors can be hard to learn about, but Miriam Forster's debut novel is excellent. She manages to create a wonderful, complex world that feels fresh. She draws from Asian cultures to make a distinctive culture and setting,
The title location is a refuge of sorts for abandoned girls, who are brought up in one of the Houses and trained for service of various sorts.